ZipRider®
Wildcat Mountain Ski Area

For information on hours/days of operation and pricing please call Wildcat at 888.SKI.WILD or visit their website skiwildcat.com.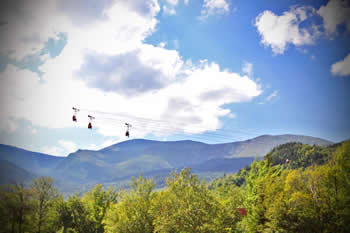 Stats:
Length: 2100 feet long
Vertical Drop: 265 feet
Average Percent Grade: 12%
Top Speed: 45 miles per hour
Cables: Four side by side
"The Wildcat ZipRider® has taken over as the White Mountains regions most exciting must do, thing to do, surpassing the local alpine slides." "Our summer business has been tremendously successful. The ZipRider® has been a real traffic generator; we have folks calling all day from a couple of hours away asking about reservations."
-Tom Caughey, Wildcat Mountain General Manager
The first east coast ZipRider® opened for business as a two cable ride on July 24, 2007 at the Wildcat Mountain Resort in Pinkham Notch, New Hampshire. The Wildcat ZipRider® was our first ZipRider® to receive Forest Service approval. This ride offers amazing views of New England's highest peak, Mt. Washington. Riders soar 70 feet above the ground over the surrounding trails, tree tops and Peabody
River, and fly right by the Wildcat Base Lodge before reaching the bottom landing platform beside the general parking area. From day one the Wildcat ZipRider® sold out and saw waits of an hour to an hour and a half long.
In order to increase rider capacity Wildcat expanded the ZipRider® to a four cable ride in 2008 and still continues to sell out every single day. The Wildcat ZipRider® offers the most exciting way to enjoy the scenery of the White Mountain National Forest while flying at speeds over 45 miles per hour!
VIDEOS
IMAGES