Ziprider®
Longest Zip Line on the Planet!!!
Parque De Aventura Barrancas del Cobre
Copper Canyon, Chihuahua, Mexico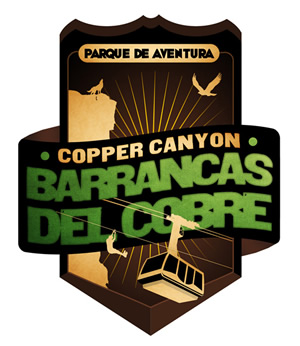 The ZipRider is a world class attraction we are proud to have at the Parque de Aventura Barrancas del Cobre, located at Copper Canyon in Chihuahua State. Our ZipRider is 2545 meters (8,350 feet) long with a max registered speed of 135 km/hr (84 mph)! Chihuahua has the longest zip line of any kind in the world, with a vertical drop of 450 meters (17% grade).

The launch platform is right at the edge of the canyon and the ZipRider allows customers to fly over three different canyons: Del Cobre Canyon, Tararecua Canyon and Urique Canyon. The landing platform is right below the bottom station of the Gondola, previously installed as the main attraction of the park. The ZipRider has two cables side by side with an average ride time of two minutes and twenty seconds. The ride price is $1000 pesos (~$70.00 USD)

Riders are able to view the Tarahumaran community called Bacajípare, located at the bottom of Tararecua Canyon. They have a population of 300 families. Riders have an aerial view of their corn and bean crops, which is the main food source for the Tarahuma.

The ZipRider has already been a big success for the park as it has already increased the tourists dramatically from 45,000 people before opening to 75,000 after the opening. All of our visitors are anxious to ride the largest zip line on the planet, located in the largest state of Mexico, in the heart of the one of Mexico´s natural wonders "the Copper Canyon".

~ Jorge Estrada, Director of Tourism, State of Chihuahua, Mexico
Stats:
Length: 8,350 feet
Vertical Drop: 1450 feet
Average Percent Grade: 17%
Two cables side by side
Top Speed: 65 mph
Flight time: 2 minutes 20 seconds
In 2012, we were approached by the Department of Tourism for the state of Chihuahua in Mexico, who proposed the grandest zip line vision to date.  They wanted us to build the longest zip line in the world, a ride that would stretch across an expansive section of breathtaking terrain inside the Copper Canyon, home to the Tarahumara natives.  At first, it did not seem possible.  But after our visit to the Copper Canyon, we found the perfect alignment for such a record breaking zip line ride.
The installation was arduous and extremely difficult. But our installation crew persevered and successfully installed the longest single span zip line cables in the world. It was a mind blowing accomplishment, and one we will always be proud of.
In the spring of 2014, the 8,350 foot long Copper Canyon ZipRider® opened to the public and is now the longest single span zip line on the planet. To ride this ZipRider, above the extensive Copper Canyon, is an experience of a lifetime. And people are coming from all over to experience it for themselves.
VIDEOS
IMAGES