ZipRider® at Snowbird Ski and Summer Resort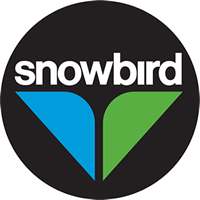 For days/hours of operation and pricing please call Snowbird directly at 801-933-2222 or visit their website snowbird.com/events/summeractivities/.
Stats: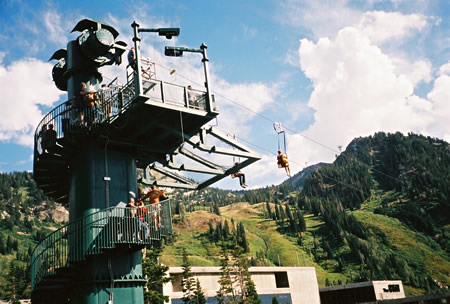 Length: 1000 feet long
Average Percent Grade: 15%
Top Speed: 30 mph
Top Speed: 50 mph
Cables: 2 side by side
The ZipRider® at the Snowbird Ski and Summer Resort was built during the summer of 2004 and opened up mid-August 2004. Customers first climb up to the top of the 50 foot tower shown, then launch out the doors to fly down the cables at 30 mph, landing on the expanded Tram building deck. The ZipRider® has been very successful at Snowbird and it is not uncommon for the line to extend all the way down to the ground on weekends. To see riders in action click the VIDEO tab below. For more information on days and hours of operation please visit Snowbird's website at snowbird.com/events/summeractivities/ziprider.html.
VIDEOS
IMAGES