ZipTOUR®
LET THEM EXPERIENCE YOUR MOUNTAIN LIKE NEVER BEFORE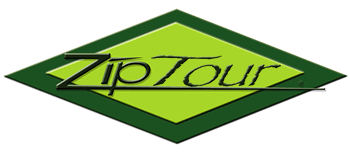 What sets the ZipTour® zip line tour apart from other zip line canopy tours? The key lies in the patented ZipTour® trolley, a dynamically controllable device that allows the customer to control their speed of descent and ride experience. We are the only zip line company in the world that offers this technology!!! This technology allows us to build incredibly long zip line spans that can descend from the mountain summit to the base area in just 2 to 4 spans. Several of our ZipTour® spans are almost one mile long! The biggest zip lines in the country today are all ZipTour® zip line spans. Our ZipRider® at Icy Strait Point still remains the longest zip line in the USA.
The ZipTour® zip line canopy tour system is designed as a multi-stage zip line tour that allows the customers to explore the terrain of a mountain resort via multiple zip line spans and short walks in between the spans. Customers are able to fly over the steep bowls and off-piste resort terrain previously only accessible to the expert skiers. It is a mountain experience unlike anything else! The ZipTour® is removed after each ride and is designed to be carried by the customer between each span in our supplied custom ZipTour® backpack.
As with every ZipRider®, the ZipTour® is designed and built to ASTM F24 amusement ride codes, TUV codes and standards, and ANSI B77 tramway codes, and the various technology components are protected by our 12 USA and European patents. We are the original inventors and designers of the graduated spring and spacer terminal brake assembly and every ZipTour® zip line cable span is equipped with this assembly for additional stopping assistance if so needed.
The zip line ride experience and excitement is enhanced when you are able to control your own speed. You are really able to play with the person you are riding next to. You can speed ahead, slow down and let them pass you, then speed up again to catch up. It is a blast! As customers approach the landing platform they begin to slow their trolleys down and come to a stop over the deck. The guides lower them to the platform and place their trolleys into their backpack to prepare them for the walk to the next span.