Bobrovy Log Resort, Krasnoyarsk, Siberia ZipRider®
Stats: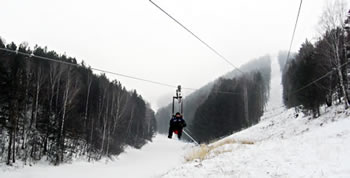 Length: 2490 feet
Vertical Drop: 710 feet
Average percent grade: 30%
Top Speed: 55 mph
Cables: 4 side by side
The very first international ZipRider® has been completed and is located at the Bobrovy Log Fun Park in Krasnoyarsk, Siberia. Yes, in Russia! Hang onto your fur hats; this is going to be a wild ride! Customers first begin their adventures by taking the K2 chair lift to the top of the ZipRider®. Customers can enjoy a snack in the bar and grill next to the ZipRider® as they wait for their turn to ride. From the top of the ZipRider® customers overlook the Bobrovy Log Fun Park and portions of Krasnoyarsk. As it is quite foggy during the wintertime from the nearby hydroelectric dam we felt it best to show the ride through video rather than photographs. However, the summers are spectacular in Krasnoyarsk and we will post green and sunny photos of the ZipRider® once the season is upon us.
VIDEOS
IMAGES