Jeong Seon County ZipWire (ZipRider®) – South Korea

Hours of operation:
Tuesday through Sunday, 10 am to 6 pm.
Stats: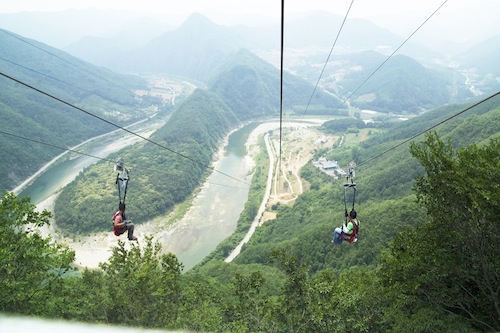 Length: 3,900 feet long
Average Percent Grade: 35%
Top Speed: 60 miles per hour
Cables: Four cables, side-by-side
More information can be found at ariihills.co.kr
The mountains of Jeong Seon County, South Korea have always offered an abundance of outdoor activities. From the numerous hiking trails to cycling or cruising the river, there is no shortage of places to explore. Until now, these activities have always taken place with your feet near the ground. With the addition of the "Jeong Seon County ZipWire®" ZipRider®, you can see the area in a whole new way…from 300 feet in the air!
Just a few kilometers outside of town, the launch platform is perched high atop a cliff, giving you a few moments to enjoy the scenery before you are buckled in to your harness for the ride of your life. Your heart will be pumping pure adrenaline as you wait for the gates to open and send you down the longest and steepest zip line ride in all of Asia!
Accelerating to a maximum speed of 60mph in just seconds will take your breath away, but the patented ZipRider® trolley will safely control your descent. Now it's time to sit back, enjoy the ride and take in the stunning views of the mountains and Han River valley below. Sharing this 3,900 foot experience with three of your best friends or family members riding beside you will be a memory that will last forever.
Once you exit the ride, be sure to walk out onto the dock directly beneath the ride to watch as other riders become initiated into the group of people who can say they've taken the plunge on the ZipRider® in Jeong Seon County!
How to get there from Seoul:
By car: Take the Young-Dong highway to Gang-Won Province and exit at Jin-bu Toll Gate.
By bus: Go to the East Seoul Bus Terminal and take the bus to the Jeong-Seon Bus terminal
By train: Go to the Cheong-Yang-Ni Station in Seoul, and get on the Je-Cheon train and transfer to Jeong-Seon train.
VIDEOS
IMAGES