First Flieger ZipRider®
Grindelwald, Switzerland
For days/hours of operation and pricing please call Grindelwald directly at +41 (33) 828 72 33 or visit their website jungfraubahn.ch.
Stats: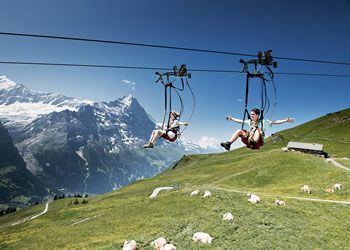 Length: 2480 feet long
Vertical Drop: 675 feet
Average Percent Grade: 28.4%
Top Speed: 55 miles per hour
Cables: Four side by side
The Grindelwald ZipRider®, locally known as the "First Fleiger", opened to the public in January 2009. Ever since, the First Fleiger has been the anchor summer attraction for Firstbahn Grindelwald, and a very popular attraction during the winter season as well. The First Fleiger typically runs over 300 customers through in a busy day, and the record currently stands at 347 riders!
"The Grindelwald "First Flieger" ZipRider has proved to be an enormous attraction for us. Visitor numbers have increased year on year since we opened and have exceeded our most optimistic expectations. Visitors have been making the trip to Grindelwald from far and wide specifically to come and ride on the "First Flieger."
-Mark Segal, "First Flieger" ZipRider Manager
Grindelwald is located 2 hours from the city of Zurich, and 30 minutes up the mountain from the infamous town of Interlaken. Millions visit the area each year to experience the "Jungfraujoch- Top of Europe", a modern cogwheel railway that takes visitors through a tunnel in the Eiger Mountain to the Jungfraujoch and Sphinx Observation hall. Now visitors to the area can add a little adrenaline to their visit by riding the Grindelwald ZipRider®!
Customers begin their ZipRider journey by riding up the scenic, 3-stage Grindelwald First Gondola. During the summer months the mountains are covered by what looks like a perfectly manicured green carpet with mountain cows grazing over the landscape. The rugged Alps and glaciers are in view from any direction and the Eiger is visible to the right from the top of the ZipRider®. Once the gates open, customers fly down the mountain, over the ski runs below, at speeds up to 55 mph! The views are spectacular and breathtaking, to say the least. Riding the Grindelwald ZipRider® should definitely be added to your bucket list!
The ZipRider® received German TUV approval in the fall of 2008.
If you are planning a trip to Grindelwald and would like to ride the ZipRider® please visit their website jungfraubahn.ch for days of operation and pricing information, or call Firstbahn Grindelwald 033 828 77 11.
VIDEOS
IMAGES