Nami Skyline ZipWire ZipRider®
Visit the Nami Island Website
Recently Korea's most watched show "A day and a Half" (KBS/ Korea Broadcasting System) filmed a segment on the Nami Skyline ZipWire (ZipRider) and it aired last week. After the show, we have too many riders coming here, and they are waiting more than 6 hours to ride the ZipRider! Six years after opening to the public, we are busier than ever!
~ Lee, Sun Hyo General Director- Janaline Co., Ltd. - February 18, 2016
Nami Island Stats:
Length: 3,083 feet long
Average Percent Grade: 7.47%
Top Speed: 35 miles per hour
Cables: Two, side by side
Jara Island Stats:
Length: 2,128 feet long
Average Percent Grade: 10.47%
Top Speed: 45 miles per hour
Cables: Two, side by side
"I'd like to express my sincere thanks for successful construction of our new riding system.  It is without a doubt the best riding system in South Korea.  Since our opening ceremony took place on November 5th, every major national television covered the story on their prime time news and many popular TV show programs have contacted us asking for filming agreement. (We expect a few big-name celebrities to visit here soon.) Customers' reactions are very strong such that on weekends, lineups for the ride stretch up to 3~4 hours despite freezing weather below 0'C."
Lee, Sun Hyo General Director- Janaline Co., Ltd.
Just an hour's drive from Seoul, Nami Island provides an environmentally friendly escape from city life. While on the island, tourists spend time viewing a collection of amazing sculptures, hand blown glass and paintings created by resident artists.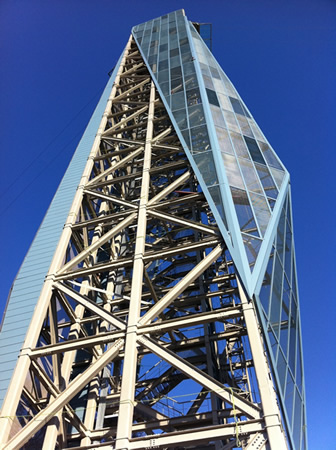 Famous as the setting for the immensely popular Korean series "Winter Sonata", the island welcomes people from around the world while maintaining traditional Korean culture. Each year two million people visit Nami Island. Most travel to the island via one of four ferries, but with the introduction of the Nami Skyline ZipWire ZipRider, there is a now a more exciting way to get there!
Once you arrive in Chuncheon, make your way to the river-front and look for the ZipWire tower. It won't be difficult to find as it is the tallest structure in the area. Book your tickets in advance to avoid a long wait for the popular ride. After ascending to the top deck of the 80 meter tower, step out of the elevator and take in the panoramic view of the Han River and the surrounding countryside.
Before you are buckled into the harness for the Nami Island ZipRider, set your sights on the landing 940 meters to the south. Try to relax as you wait for the gate to open because once it does you are in for the ride of your life! Seconds after passing through the gate you are flying over water and it's time to relax, enjoy the ride and take in the views. This is the first ZipRider to cross water and you can wave to the people on the ferry while you fly over them. As water gives way to land, your ride will transition from wide open views to the feeling of flying through a forest. A minute and a half after your initial departure from the ZipWire tower, you will glide onto the wooden platform on Nami Island. Exit the ride and explore all the island has to offer.
VIDEOS
IMAGES