ZipRider® Home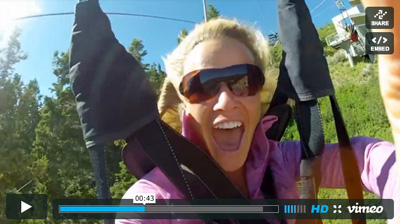 Welcome to the world's most exciting "No-Sweat Adrenaline™" zip line ride. The ZipRider® zip line cable ride is based on the familiar concept of the back yard zip line, but from there it takes a giant leap beyond anything you may have thought possible. The key lies in the ZipRider® trolley, a device designed to automatically brake while the rider descends cable gradients ranging from 5% to 40%.
With the creation of the ZipRider®, a whole new world of sky travel is possible.  This device has allowed us to build extraordinary zip lines over a mile long that run at speeds up to 65 MPH! Our patented and exclusive ZipRider® "Equipment Retrieval System" drives tremendous profits by increasing rider throughput while enhancing the ride safety and reducing operator expenses, error and fatigue.  
The ZipRider® can adapt to almost any location.  Whether you are located in a mountainous environment or on level terrain, the ZipRider® can accommodate your year-round revenue producing needs. Our engineering capabilities allow us to design a ride that is tailored to your needs and designed with your money-making opportunities in mind.
Please call our office or e-mail your inquiry if you are interested in determining how well a ZipRider® will work for your facility. We will be happy to visit your resort or facility for an initial feasibility study of prospective ZipRider® locations. You can find our contact information via the "Information" button. 
We will also be pleased to give you a tour of the ZipRider® installations here in Utah and let you experience the ride for yourself when you come to Salt Lake City. You can also personally experience the ZipRider® at any of our other US or International installations.